| | |
| --- | --- |
| Jinxy Jenny's Sweet and Savoury Sunday | |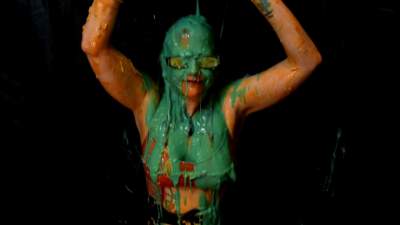 Starring the following model:
Variety is the spice of life, and from the self-inflicted custard shower at the beginning to the salty savour of the beans and spaghetti, topped off with rice pudding, I intend to explore it fully. With my orange tights and bra and my shiny, high-waisted black pants I'm a riot of colour as the custard hits me first. Once my head is yellow covered, I switch to orange. I drench myself from the head on down with a saucy mix of beans and spaghetti. See my bean filled tights bulge to overflowing! Hear the squelches as I smoosh the messy medley all over my seat! I finish off my new look with some striking blue rice pudding for amazing contrast and the two begin to mix. Gloopy green gunge oozes from my cleavage as I bend over to fill my shoes with beans to stomp. I fill my leather gloves with noodly goodness til they squirt down my arms and pulverise the beans with my fingers. Shoes off now, I squish those beans between my toes and mix the slop into pretty coloured puddles. Never has so much fun looked so great.
| | |
| --- | --- |
| File count: | 2 |
| Total size: | 628.8 MB |
| Total runtime: | 9 mins, 56 secs |
| Date added: | 11/13/17 |
| Views: | 1198 |
| Scene ID: | 25328 |

$9.99

Report
Free video trailer:
Includes all of the following files:
beansspaghcustard-part1.mp4

1920x1080

8,408 Kbps

299.36 MB

5.0 minutes
beansspaghcustard-part2.mp4

1920x1080

8,397 Kbps

298.97 MB

5.0 minutes
Tell others about this scene: